Under the blazing sun around the globe, buffet hunters have a hard time poaching on the plains, grazing on the savannah, or raiding the rice paddies. Get a lion's share with today's MetroDeal: P999 instead of P2088 for an Eat-All-You-Can Lunch or Dinner Japanese Buffet with a round of Yanagi's hot house blend service tea at Midas Hotel's Yanagi Restaurant and save 52%.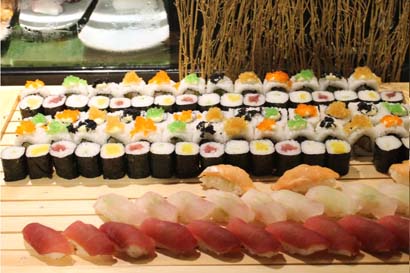 The cosmopolitan Japanese restaurant, Yanagi, located at the Mezzanine floor of Midas Hotel offers delectable dishes prepared by the resident Head Chef. Open for lunch and dinner, it boasts of authentic Japanese cuisine with a sushi menu, a teppan menu and all time Japanese favorites. It is an ideal place where you can whet your appetite with a wide range of Japanese dishes and make a fresh selection of sushi and sashimi. The sumptuous interior is a comfy, well lit space, kitted out with functional furniture for easy grazing in cosy booths.
For this latest offer from Midas Hotel through MetroDeal, enjoy the Japanese Buffet which includes assorted tempura (fish, shrimp & vegetables), assorted Maki, Sukiyaki, Gohan (rice), assorted fresh fruits, among other delicacies. Indulge in Japanese mixtures or pick a particular pabulum to patronize, bearing in mind that the gastronomic experience is limitless.