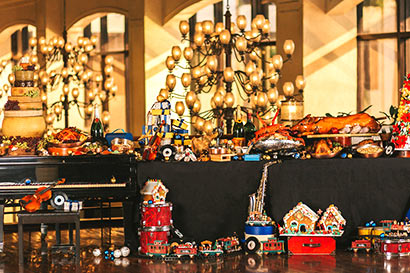 Embarking on a culinary journey doesn't always have to mean traveling to places miles away to tread the streets and markets for authentic recipes and ingredients. Numerous buffets today readily offer the same. However, the trend itself has made it almost a nearly all-too-common experience. Setting the pace when it comes to buffets and superior dining is Sofitel Philippine Plaza's Spiral, bringing together the most renowned cuisines from all over the globe in one luxurious setting. Experience the world at the tip of your tongue with today's MetroDeal: lunch or dinner buffet at Sofitel Philippine Plaza's Spiral for P1855 instead of P2650.
Spiral features 21 dining ateliers where seasoned chefs and artisans masterfully craft gourmet food for each guest's indulgence. The plethora of exquisite dishes include various Asian and European fare which are meticulously made right before your eyes with authentic ingredients in searing hot woks, grills, plates, and ovens.
Begin your feast by making your own salad using locally grown organic produce or having it tossed together by one of Spiral's chefs with your choice of homemade dressings; or dive right in and gather all your favorites in a plate. Have endless helpings of tasty dim sum such as xiao long bao, siomai, dumplings, and wonton from the Steam Baskets area, or have sushi, temaki, sashimi, and nigiri from the sushi bar.
Head for the Rotisserie or the Churrasco for your fill of intensely flavored and slow-cooked meat or seafood. The Peking Duck Oven atelier also has the famous wraps of perfectly roasted peking duck with fresh vegetables.
True gourmands should not miss out on Spiral's L'Epicerie which has an array of premium aged hams, charcuterie, smoked fish, and artisanal cheese. Paired with olives, nuts, and herbs, the harmony of flavors will surely be a hit for any discerning palate.
Conclude your meal with sweet doses of freshly baked French pastries at La Patisserie, artisanal chocolates at the Chocolaterie, or cool scoops of luscious ice cream with your choice of toppings at the Creamery.
Set in the luxurious ambiance of the five-star Sofitel Philippine Plaza, Spiral offers a truly unforgettable experience. Take your family, friends, or that special someone along for a grand celebration or surprise treat. Grab this MetroDeal now and savor exquisite tastes from around the world at Spiral.
Sold By:
Spiral
Sofitel Philippine Plaza CCP Complex, Roxas Boulevard, Pasay City
Phone: (02) 551-5555, (02) 832-6988